Majority of Canadians disagree with 'freedom convoy' on vaccine mandates and lockdowns
Most Canadians support government measures to help control the spread of COVID-19, according to a public opinion study. But they're growing weary of the pandemic. Clifton van der Linden of McMaster University and Alexander G W Beyer of Simon Fraser University were featured in the Conversation.
Feb 04, 2022
The arrival of the self-styled "freedom convoy" in Ottawa this week has dominated headlines, but do the demonstrators represent the views of most Canadians? When it comes to their stark opposition to government-imposed restrictions and vaccine mandates, research shows the protesters clearly represent a minority view — no matter how vocal they are.
Most Canadians support government measures to help control the spread of COVID-19, according to our ongoing public opinion study. Known as the COVID-19 Monitor, the study of Canadians' attitudes relating to the COVID-19 pandemic and public policy interventions has been running since shortly after the first COVID-19-related government restrictions were introduced in March 2020. It has amassed more than 100,000 respondents, making it one of the largest continuing studies of Canadian attitudes toward the pandemic.
The study is a partnership between McMaster University's Digital Society Lab and Vox Pop Labs, a social enterprise that conducts public opinion research polling. We hold positions with both organizations.
Our findings indicate that a majority of Canadians support most of the measures that have been employed by federal and provincial governments aimed at preventing the transmission of COVID-19. In most cases support has remained relatively stable since the beginning of the pandemic.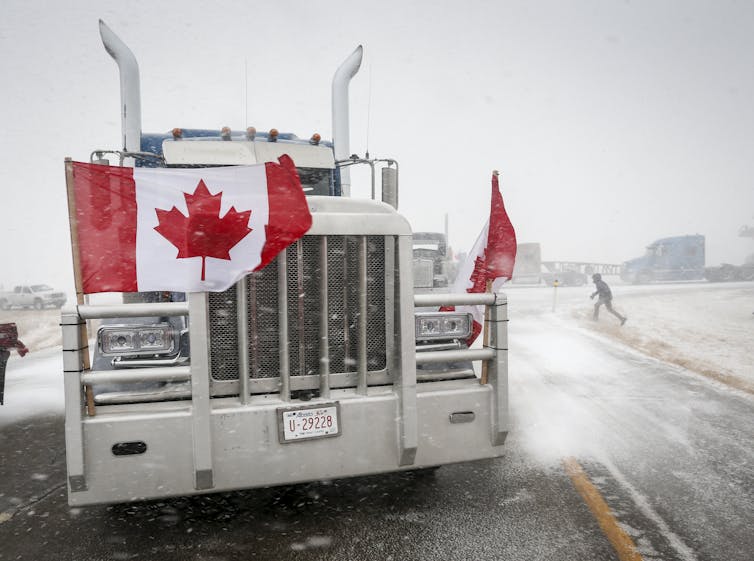 Our objective in reporting the results of this study is not to pass judgement on the views of the "freedom convoy" demonstrators or their supporters. We simply offer a series of empirical tests of the claims that those views are widely shared among Canadians. Our analysis of the data from the COVID-19 Monitor indicates that such claims are significantly exaggerated.
The most recent wave of the COVID-19 Monitor study was conducted online from Jan. 4-10, 2022, and completed by 2,339 respondents randomly selected from the Vox Pop Labs online respondent panel. The respondents were weighted by census estimates of age, education, region, sex and vote choice in the 2021 federal election to reflect a representative sample of the Canadian population.
Vaccine mandates
Although they are widely attributed as the catalyst for the trucker rally, vaccine mandates actually enjoy high levels of support among Canadians. Survey data shows approximately four out of five Canadians agree that health- and long-term care workers should be required to be vaccinated against COVID-19. Roughly three-quarters of Canadians think that vaccines should be mandatory for government workers and politicians.
There is even broad-based support for a vaccine mandate for all non-exempt adults over the age of 18, with 70 per cent of Canadians indicating that they back the measure to some extent. That support begins to decline slightly when it comes to opinions on mandatory vaccines for teenagers and adolescents. It drops precipitously to just under 50 per cent for children under the age of five.